Will You Go? Our Expansion into the Caribbean
By Carol Tobin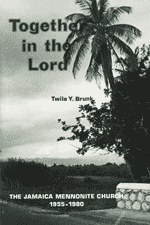 Twila Y. Brunk's book, Together in the Lord, is an engaging account of the first twenty-five years of the Jamaican Mennonite Church. The following recounts those beginnings, as well as the expansion of VMMissions' work into Guyana and Trinidad and Tobago.
An elderly pastor and his wife from Manitoba traveled to Florida for health reasons. D.H. and Annie Loewen sensed the Lord saying that a mission station should be opened in either Jamaica or Cuba. As Sister Loewen later recounted, "The Lord gave Brother Loewen the assurance that it was Jamaica." Returning to Manitoba, they began making their appeal to their Mennonite congregation for a couple to be sent. Their church wasn't convinced that it was possible. "So one day the Lord said that we should go," Sister Loewen recalled. "How the Lord was with us! We could just feel his presence so often!"
One morning, shortly after their arrival, Brother Loewen said to his wife, "Today we're going to find a place where we should move to and open up a mission station." "That day," she shared, "we found that place." The building was used for a school and the two dozen or so children were their first contacts. They posted a sign, "Night Service Held Here Once A Week." One evening, Simeon Walters, a respected longtime resident and tailor no longer serving within his former church, stepped into the meeting. "'The old man, he explained so nicely the Scriptures that I decide in my mind to ask, 'Who are you?'" Walters made a face when Loewen said he was Mennonite. "Mennonite. Well I never hear that name before!"
After about two months, there were members to baptize. Walters said "We dip." Loewen said, "We pour." Loewen resolved to seek counsel and permission from his Canadian Mennonite church. He sent a petition; the petition was rejected. Mrs. Loewen reports, "We were at our wits end. Then the Lord told Brother Loewen that help was coming."
Unbeknownst to the Loewens, God was already weaving another thread into the story: Myron and Esther Augsburger were serving a pastorate in Pensacola in the early 1950s.


Seeing the Jamaicans working the fields east of Sarasota, Myron developed an interest in Jamaica. He shares, "We started to talk about trying to get over there." But then, in 1954, he was called into campus ministry at Eastern Mennonite College. A young student, Warren Metzler, sought out Myron for counsel. "I was talking to Warren about a pastorate here or there," Myron recalls, "and he said he would rather go to some fields where there hadn't been any Mennonite work and start something from the ground up. So I said, 'Well, maybe you're the person we're looking for; Esther and I want to see something start in Jamaica.'"
Myron remembers the cool response he received from the mission board. "I suppose this idea sounds like a wild goose chase or a brainstorm of this young pastor at the college." Nevertheless, the Board commissioned Mahlon Blosser to accompany Myron and Warren on an exploratory trip. Before they left, they received a phone call from Mennonite Central Committee regarding a request for clothing they had received from a Mr. Loewen in Jamaica. Armed with the clothing and the address, their first order of business when they arrived was to take a taxi to the address given them. Myron shared, "When I knocked at the door, the old gent opened the door, saw me standing there in my plain coat, threw both arms up in the air and said, 'Praise the Lord! I don't know who you are, but God sent you.' Sitting down inside, he told us, 'This morning … I got up from my knees and told my wife that I'm sure there is an answer on the way. I don't know what it is, but it is on the way.'"
Coming back to Virginia, the Board decided unanimously to take over the work. Truman Brunk later visited the Metzler family and was asked to administer the first baptisms. A compromise between competing baptismal methods was found. Standing in the water of Kingston Harbour, buckets of water were poured over the heads of the candidates. Immersion by pouring!
By 1967, there were four well-established congregations in Jamaica and the conference membership was just under 250. Lloyd Weaver, Jr., and Roy Kiser, mission board leaders, had begun to look for new fields in the region. Way to Life radio broadcasts from Jamaica had been reaching homes and hearts in Guyana; letters and requests were pouring in. They planned a trip to Guyana, disappointed that their itinerary entailed a full day in Port of Spain, the the capital of Trinidad. However, a string of connections there gave them the marvelous sense that God was leading.
They attended a church service in the city and met the aging rector. Roy writes, "He related his intense interest in Mennonite history and traced the lineage of his denomination back to Menno. When we told him of our purpose, he said, 'You have come to the right person!' Evidently, all applications for entrance into Trinidad by religious bodies were referred to him for evaluation! He asserted, 'I will be glad to help the Mennonites!'"


As it turned out, the process of entry was more stringent than anticipated and it was only possible to gain entry through the offer of agricultural or medical expertise. Four years later, Richard and Martha Keeler began their work in Trinidad. Within six years of the Keelers' arrival, more workers were able to be sent to nurture the budding faith of Dr. Keeler's patients and neighbors. This pattern of sending continued for the next 33 years, with 12 additional couples each having the opportunity to fall in love with Trinidad.
In politically tumultuous Guyana, Roy and Lloyd heard this complaint and plea: "Our country is desperately in need of warm, evangelical witnesses. When can you come to help us?" After that trip, Roy and Lloyd invited the Jamaican church to choose and commission three young men to serve with the Christian Literature Crusade in Guyana for the summer. The men handed out thousands of packets of literature; interested persons were then able to enroll in the Way to Life Bible correspondence course.
Roy shared the new vision with the Board, "It was our feeling that the Lord is opening the way for our involvement in the needs of this area of the world. He has blessed remarkably in our work in Jamaica… We will want to help the young Jamaican church to reach beyond their borders… American and Jamaican personnel side-by-side in a new endeavor for Christ."
Perhaps this particular vision was ahead of its time. Paul and Evelyn Kratz were appointed for service in Guyana in 1969, but after one term, the country closed its doors more tightly. Thanks to the opening gained in Trinidad by the Keelers, the Kratzes were able to join the Keelers and continue to direct the Way to Life correspondence course.
Changes were ahead for Jamaica as well. Due to both the government's refusal to grant work permits and the maturity of the Jamaican Mennonite Church, the sending patterns after 1980 changed. Rather than a dependence on long-term workers, the mission board sent couples on a shorter term basis to resource the pastors. By that time, the mission board had sent 16 different families, couples or singles to Jamaica, with a combined service of 123 years.

God is at Work Behind the Scenes
"What have I done of eternal value for the Lord? Do 40,000 tracts distributed or 22,887 lessons completed and graded mean anything? What of the 2,058 people who sat down and wrote to us at the Way to Life office? How about the 512 who wrote for specific help in prayer? Or the 510 who expressed appreciation and gave testimony of God's work in their lives? The 162 who made decisions for Christ—are they going on with Him? Were the hours required to write 762 counseling letters worth all the effort? Did they in any significant way point others to the Savior? Are these merely figures? A hollow effort to prove busyness?
I pray not! These are tokens of greater things! Evidence that God is at work behind the scenes. We can only measure a trifle. Our vision is incomplete, our work unfinished. We are powerless to estimate the infinitude of the Spirit's work in persons' hearts. Who, but God, can know the problems, the struggles, the failures, the vacillations, the motives, the renewals, the victories? He alone can see it all and understand it all. Small though our part may be, yet we experience the thrill of working along with him!"
Paul L. Kratz, Missionary Light, May-June 1975
Other recent news & updates from VMMissions