Beginnings: Called to the Mountains

By Aaron Kauffman
In the early days, mission vision emerged at the district level of Virginia Mennonite Conference. Middle District was exemplary in mobilizing witness over the mountains into West Virginia. Though many declined the invitation to serve, a steady stream of workers labored over the years, eventually giving birth to over a dozen churches. This story of Rhine and Anna Benner is one of many inspiring accounts.
On July 16 of 1915, Rhine and Anna Benner arrived in Job, West Virginia, to join the mission work Mennonites had been involved in there since just after the Civil War. Their "pale and frail" appearance did not convince the mission leaders from Virginia that they were suited "for the rigors of mountain life." So for the first year, the board declined to provide them with any means of transportation. Rhine learned to walk the roads and trails that connected the small churches and mission outposts in the area, sometimes walking over 30 miles to conduct three services in a single day.
Aside from a house for their family of four, the mission board provided $15 a month. This proved too little to live on, so Rhine invested in clock repair tools, since there seemed to be a market for such a service in the community. After proving their resilience during their first year on the field, the mission board provided Rhine and Anna with a capable but old horse and a wagon. They also gave funds to install a phone line in the house, which lacked both electricity and indoor plumbing.
Anna tended the home, but also joined the ministry as a fervent prayer partner. More than once, the Lord placed a special burden on Anna's heart to pray while Rhine was making visits or preaching. She learned to make do with few modern comforts. She once remarked to Rhine, "Don't you believe the Lord wants us to live as the people here do? If we had conveniences they can't afford, wouldn't they resent us?" Tragedy struck not once but multiple times as Anna and Rhine lost five children in their infancy between 1916 and 1922. Eventually the Lord blessed them with seven children who lived to adulthood.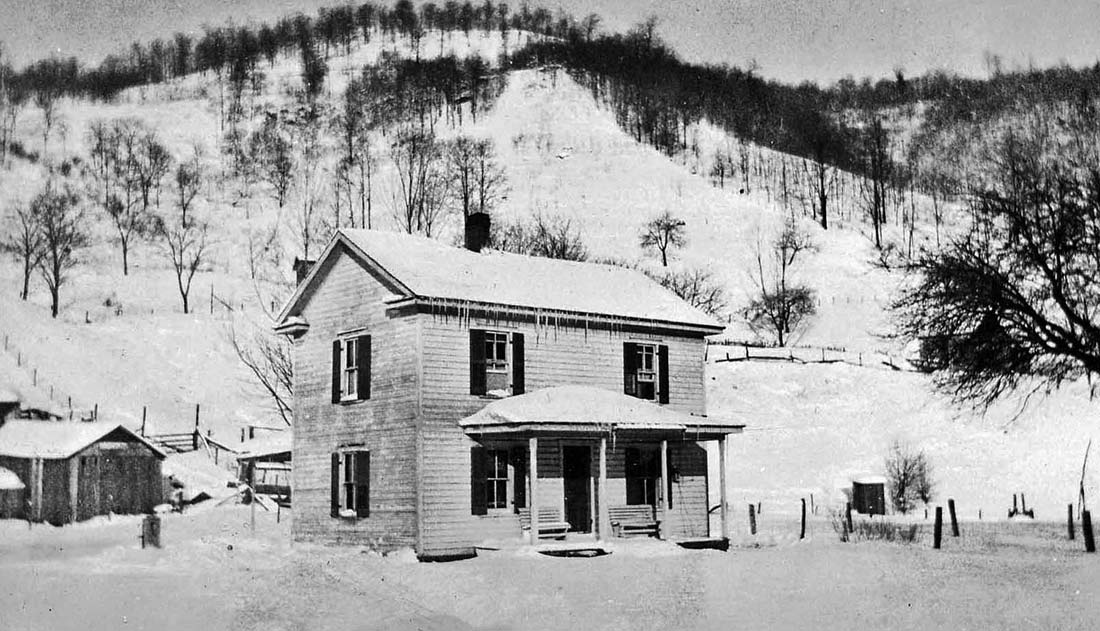 The mission home at Job for West Virginia mission workers in 1928. Photo: Roy Good


Perhaps the greatest test of their ministry came in 1918 as the United States declared war on Germany in World War I. Young men from their congregations were drafted and the government issued war bonds and stamps. Rumor had it that buying the bonds and stamps was compulsory. Rhine needed an authoritative answer to give his church members, so he wrote to Bishop L. J. Heatwole back in Virginia. His response? "The report of compulsory buying is, I feel, completely false. Contribute nothing to a fund used to run the war machine."
Rhine followed the Bishop's instructions, and he visited or wrote letters to all the church members, to pass them on. When officials called a local meeting to sell war bonds and stamps, Rhine made it public that he would not do so. Noah Carr, the chair of the War Savings Stamp Committee, was overheard saying Rhine should be shot.
But that wasn't all. One of Rhine's letters got into the hands of law enforcement, and the Benner home soon had a visit from a U.S. Marshal. Rhine spent three nights in prison, and eventually both he and Bishop Heatwole were fined $1,000 (equivalent to $16,000 today). For their safety, the Benner family relocated to Virginia for a time, then served in Montana for a year.
When Rhine returned to Job just a year and a half later, he intentionally sought out and shook hands with Noah Carr. This demonstration of Christ-like forgiveness made an impact. Carr eventually became a believer and joined the church.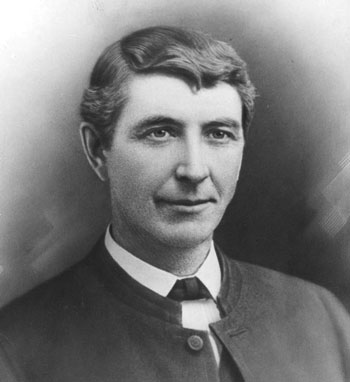 An Early Vision for Mission
John S. Coffman, Mennonite evangelist (1848-1899)
Forays over the mountains had begun as early as the 1870s. Circuit riding preachers would hold meetings in as many as twenty different "schoolhouses" on grueling trips that lasted up to two weeks.
Upon returning from one such trip, Coffman wrote: "Today I have been thinking much of the necessity of mission work in the church. What we need is home mission work. Conference should make arrangements to send ministers into certain places where there is a prospect of a church being built. A mission board should be created and evangelists should be sent out under the care of the Board."

Timeline

Other recent news & updates from VMMissions